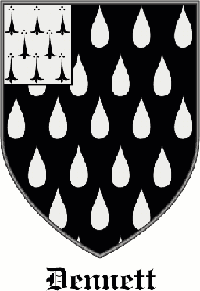 Dennett Family History
Welcome to the Dennett Family History. This is an ongoing project to compile information on my family name. What you are reading now is just another phase of that project - making the information available on the World Wide Web for other researchers. I've received much information on my family name via the Internet. This is just my way of giving something back.
Feel free to browse and use any information you find here. Most of what is here comes from other people, so I can't vouch for the validity of it. If your data differs from mine, please let me know. More importantly, if you can fill in any blanks, definitely let me know and I'll be very grateful.
With that brief introduction out of the way, let's get started.
My hometown of Hopedale, Massachusetts has a very interesting history. It started as a religious utopian commune in 1842. Read all about it's history at Sheltered from the Wicked World: Stories and Pictures from Hopedale's Past.
Please let me know you were here, especially if you found a connection or some other useful piece of information. I'd really appreciate it. My email address is on the contact page.
Do I know you? Do you know me? Are we related? Are we old old hometown, school or college friends? Please drop me an email at my address on the contact page and say hello.
Charles R. Dennett
52 Black Walnut Dr.
Rochester, NY 14615
---
Genealogy web pages created with GRAMPS ( http://www.gramps-project.org)

This website last generated on Monday, April 10, 2023 at 04:17 PM EDT